Online Session Drumming
Nothing brings life into a recording like a live performance. We've tried every replacement.. Superior Drummer, EZ Drummer, BFD Drums... but the difference a real player makes is incredible.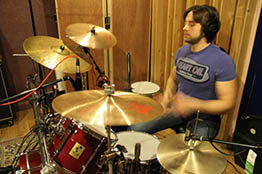 ---
Andrew Quinn - Pro Drummer
---
Andrew is a Professional Drummer who studied drums and percussion at Newpark school of Music in Blackrock, Dublin 4. His live playing credits include hist own band Nine Inch Trio/ Fancy Crazy, Brian Kennedy, Rebecca Storm, Nigel Connell, Ronan Tierney, Pearl Jem (tribute), Canadian Tenors, Celtic Tenors , Liam Lawton, Simon Fagan and many more artists. Equipt with musical flair he also adheres to the philosophy of serving the song, and adapting to the wishes of the artist and producer.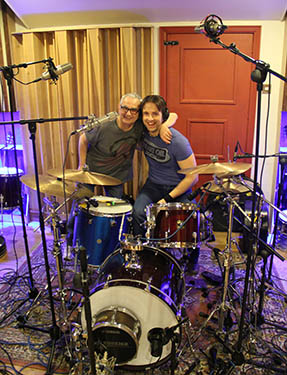 "Andrew Quinn is one of the finest drummers I have worked with anywhere in the world.", Producer, Charles Fisher (Savage Garden, Olivia Newton John, Air Supply, The Seekers, Ace of Bass, etc)
How to get Live Drums on your song:
THE SONG SHOULD BE RECORDED TO A CLICK. If its not recorded acurately to a click it will be next to impossible to post-record drums on top!
Send us a rough of the song you want drums on so that we can best advise you and also give you an accurate qoute for the job.
Tell us some references of exisiting songs that you think you would like the drums to be 'something' like. Make notes and pointers of things youd like to happen if you have a pre-exisiting idea of the drum arrangement.
We need a backing track (no guide drums) of the song for drums. We also need to know the BPM (Tempo). If the song has tempo changes we need a MIDI file of the song so that we can get our recording software to follow these changes.
You can send the audio files through Dropbox or something like "WeTransfer"
We will turn around the drum track usually within 3 days-- availability permitting. We will advise you at the time of contact what the current lead time is. Sometimes it may take longer depending on Andrew or the studio's availability.
All payments will be made through PayPal or Bank Transfer